About Peak Vestibular Center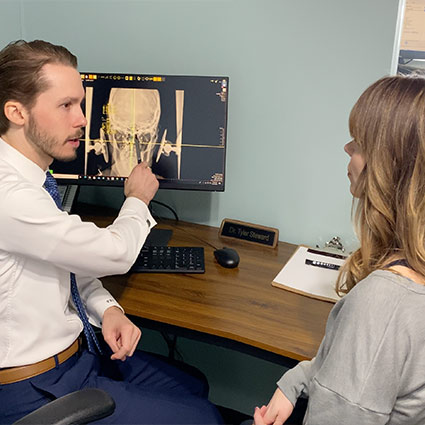 Dr. Steward grew up in Eau Claire, so Wisconsin is his home. While away at chiropractic school, his parents moved to Hudson, and his visits during the holidays made him fall in love with the area. The small town feel, along with all the year-round outdoor activities, made this the perfect area to set up his practice in 2019.
Learning From The Best
Dr. Steward credits the mentoring he received with Dr. Nathan Berner, a world-renowned Upper Cervical chiropractor, for his expertise in Upper Cervical care. Dr. Michael Burcon, a pioneer in discovering how vestibular dysfunction can be treated with Upper Cervical care, is another chiropractor who has made a huge impact on him.
MEET DR. TYLER STEWARD

Our Mission, Vision and Goal
Our mission is to provide the highest quality of care to those suffering from vestibular dysfunction, through the principles of respecting the body's innate healing potential, while adhering to the scientific literature. We vow to utilize the best patient-centered methods available to correct the underlying cause. We are grateful for the prior work done, helping us understand the complexities of this system. We will continue to further the scientific knowledge base.
Our goal is to serve as many people as possible, without compromising individual attention, striving to be the referral of choice for local health care providers. We look for the maximum patient benefit with minimal time. Our goal is correction, not just reduction.
Our vision is to be the center of health correction, internationally sought by those suffering from any form of vestibular dysfunction, not merely as a last resort, but the initial encounter. We see the future for vestibular disorders and care to be simplified and timely, not complex and chronic.
Book Your Appointment Today
Contact us to book your appointment and discover how quality chiropractic care can make a difference in the quality of your life.

About Peak Vestibular Center | (715) 690-2211