New Patients at
Peak Vestibular Center
Welcome to our practice, we're glad you chose Peak Vestibular Center as your healthcare provider. Our friendly staff is here to help you with any questions or concerns you may have. Our onboarding process covers the first two visits.
Our patient-centered goals are:
Ensure you are comfortable with treatment
Find the underlying cause for your problem
Create a plan to correct and rehabilitate your specific issue
Get results! Help you get rid of your problem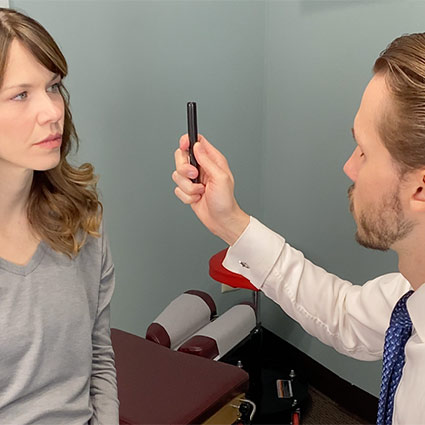 In the treatment room, Dr. Steward will go over your medical history and forms in depth. He'll discuss the issue that brought you into the office, and ask specific questions to narrow down the point of origin.
Next, he'll perform a complete neuro physical exam and any vestibular testing needed. One of the vestibular testing tools is infrared goggles, which check for eye movements at rest. It can also determine if inner ear issues are affecting the eyes.
Balance testing is next, followed by an upper cervical x-ray. If a misalignment is found, he'll do an adjustment, followed by a second x-ray to verify the correction. Please allow ninety minutes for this visit.
The second visit is the report of findings. Dr. Steward will go over everything with you—test results, x-rays, diagnosis, and possible cause of the problem. You'll receive your personalized care plan at this time. He'll explain the plan in depth, and answer any questions you may have.
Your health is always your choice. If you choose to proceed with upper cervical care, your treatment will begin at this time. Please set aside sixty minutes for this appointment.
We do not accept commercial insurance. We participate with Medicare Part B, and accept auto accident and workman's compensation assignments. We can also provide you with an itemized bill that you can submit to your insurance for potential out-of-network reimbursement.
We provide specialty treatment at prices comparable to other providers. Cash payments only; we accept major credit cards.
Get Started Today
You've tried everything to manage your pain without results. Isn't it time for a treatment that works? Contact our office and book your appointment today.
CONTACT US

New Patients at Peak Vestibular Center | (715) 690-2211