Upper Cervical Care at
Peak Vestibular Center
Upper Cervical is a method of chiropractic care known to help with many conditions. The method was founded in the early 1920s and refined over the years through the use of research and advancing technology. Images of the upper neck are obtained and measured to determine how the spinal misalignment shall be corrected. An instrument is used to complete this adjustment.
The Upper Cervical technique that Dr. Steward utilizes is termed
Orthospinology
, which is very similar to
NUCCA
.
What to Expect
At your first appointment, Dr. Steward will first take your medical history. Then, he will perform a gentle exam of your spine and any other areas of concern. X-rays will then be taken at the office if needed.
The upper cervical adjustment starts with the patient lying on their side as seen in the picture below. Next, Dr. Steward will measure the angle needed for the correction. Then, he will place the small stylus of the instrument right behind your ear. You will feel a gentle and subtle tap from the device. Then, you will come up to an upright position and Dr. Steward will recheck your pre-correction findings to verify success.
Vertigo and Dizziness
Migraines and Headaches
TMJ Disorder
Radiating Pain Into Arms/Legs (Sciatica)
Neck and Back Pain
Spinal Disc Issues
Hip and Shoulder Issues
And many more!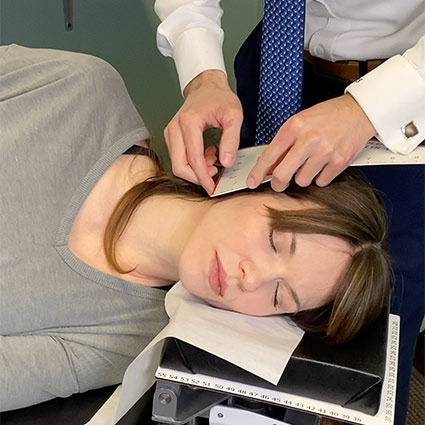 Hear first hand how we have helped people suffering from vertigo and migraines through upper cervical care by watching our
testimonial videos
!
One of Only 5 Local Upper Cervical Practitioners
It is estimated that only about 5 percent of chiropractors perform upper cervical adjusting. In the Minneapolis Metro, there are roughly five total chiropractors that practice upper cervical. Dr. Steward is the only upper cervical chiropractor in between the St. Croix River and Central Wisconsin. Dr. Steward is the only Upper Cervical Chiropractor that practices the Orthospinology Procedures method in all of Wisconsin and Minnesota!
Book an Appointment
If you would like to feel the difference that upper cervical care could make in your life, contact us today to schedule an appointment.
CONTACT US »

Upper Cervical Care Hudson WI | (715) 690-2211